Americans are very afraid of visiting Mexico and Central America. And now… after the presidential election… the feeling is mutual.
BELIEVE IT OR NOT… THE GUY WHO DRIVES THIS TRUCK IS AFRAID TO VISIT AMERICA!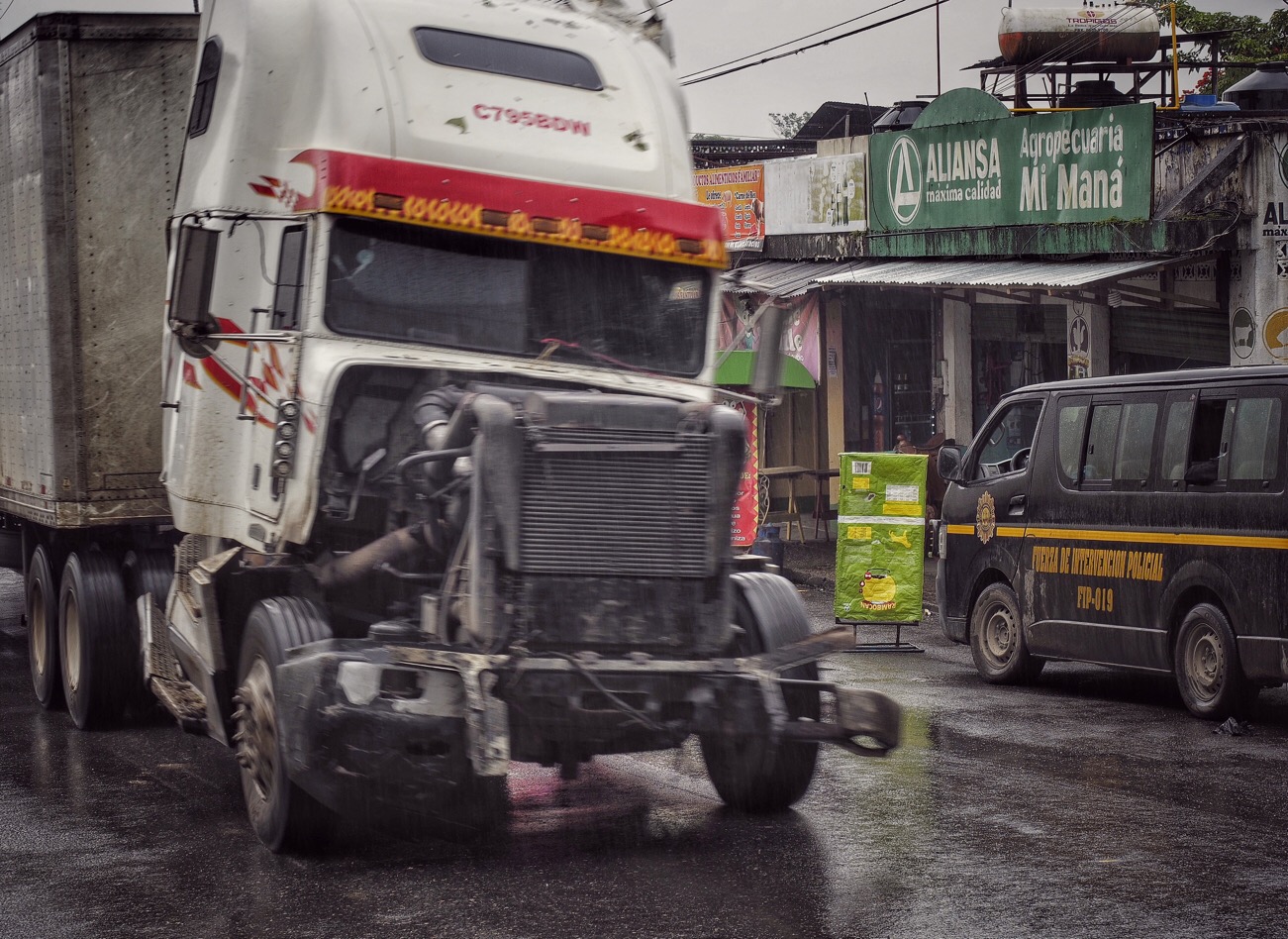 "How did Trump get elected?" Is the question that we get asked daily. I don't think anyone really knows. The "Presidential Timber" club has never included anyone who wrestled with Vince McMahon before… not publicly anyway.
My gut tells me that 46.7% of the voters fell for the old… rich people are successful and successful people know how to be successful trick. That one's been making the rich richer for a long time.
THERE'S NO SUCH THING AS SUCCESS
More than 100 years ago the GREAT G.K. Chesterton penned the fallacy of success. His claim… that success doesn't exist. Or… "if you prefer there is nothing that is not successful… A millionaire is successful in being a millionaire, a donkey in being a donkey. Any live man has succeeded in living and a dead man has succeeded in dying." It's a fun read.
In the 1940's a statistician named Abraham Wald made a similar observation for the US Air Forces. Wald worked for the Statistical Research Group… a gang of mathematicians who showed the US military how to make the best uses of the array of new technologies available to them. From calculating the best pattern for firing torpedoes at moving ships, to the development of the field of sequential analysis, the research group brought order to what most thought was random.
In the early 1940's top officers from the United States Air Force approached the group for advice on how to improve the survivability of bomber aircraft. The planes were big, slow, easy to see, and just as easy to shoot… from every side. No shock here… the survival rate of the planes and their crews was low.
The military had tabulated the damage on every returning bomber. Their plan was to place more armor where they found the most damage. They were looking to the mathematicians to help implement their strategy. As the story goes Wald instantly saw the error in their thinking. Did you?
You see, despite having access to the best information available the military experts committed the same error in thinking that leads us to believe that the "successful" have the secrets of success. The planes they were studying needed no additional armor because they were the planes that made it back. What the military had actually recorded was where the bombers could take the most damage and survive.
IT'S BETTER TO BE LUCKY THAN GOOD
If it was true that the successful knew why they were successful we should be able to easily rewind back back to when they were starting. You know… before they were successful, and find predictable outcomes from their decisions. We should be able to lay successes over each other and find commonalities that could serve as a map. Something… anything that we could say was proof that they knew what they were doing. But we can't. In fact, when we try we find that most of the time it was a chance meeting. A friend in the right place. A mistake that worked out. Aka… luck.
Of course, you don't want to think that all this success is most probably the result of luck because that would mean that the successful can't tell you shit… other than to be more lucky next time. And you think of luck as a magical force that only surrounds Jedi Knights and leprechauns and rabbits and… well, not you. If it boils down to luck… you figure you're fucked.
RELATED POST: THE LUCK OF THE… LUCKY
Psychiatrist Richard Wiseman has studied the concept of luck for years. His findings: the typical person who considers themselves unlucky is narrowly focused, craves security, and attempts to control situations in the hopes of achieving highly specific goals. This focus comes at a cost. The light that's focused into the intensity of a laser no longer illuminates the room. Meaning the focus of the unlucky blinds them to the many opportunities that surround them.
People who think themselves to be lucky have a tendency to place themselves in situations where anything can happen. By exposing themselves to more things they have more chances for random outcomes. Ironically, they usually fail more than unlucky people. But it doesn't seem to bother them. Eventually it somehow works out. And when it does… they too can join the success squad.
You can go ahead and ditch the rabbits foot. Being lucky isn't lucky. It's the by product of behaviors that bring more possibilities into your life. The more bets you place on the table the greater your odds of winning.
What it all means is that Donald Trump doesn't know shit about any ones success but his own. But neither does Hilary Clinton. Or Richard Branson. Or the donkey. Or me.
If "success" just boils down to making more $$ for you… that's easy. You can learn to get lucky… Wiseman offers luck training. Or… I'll go back to Chesterton for the last two: Either get really good at what you do. Or cheat. You know… like the banking industry.
Guatemala is stunning. The people. The mountains. The colors. A really pretty place.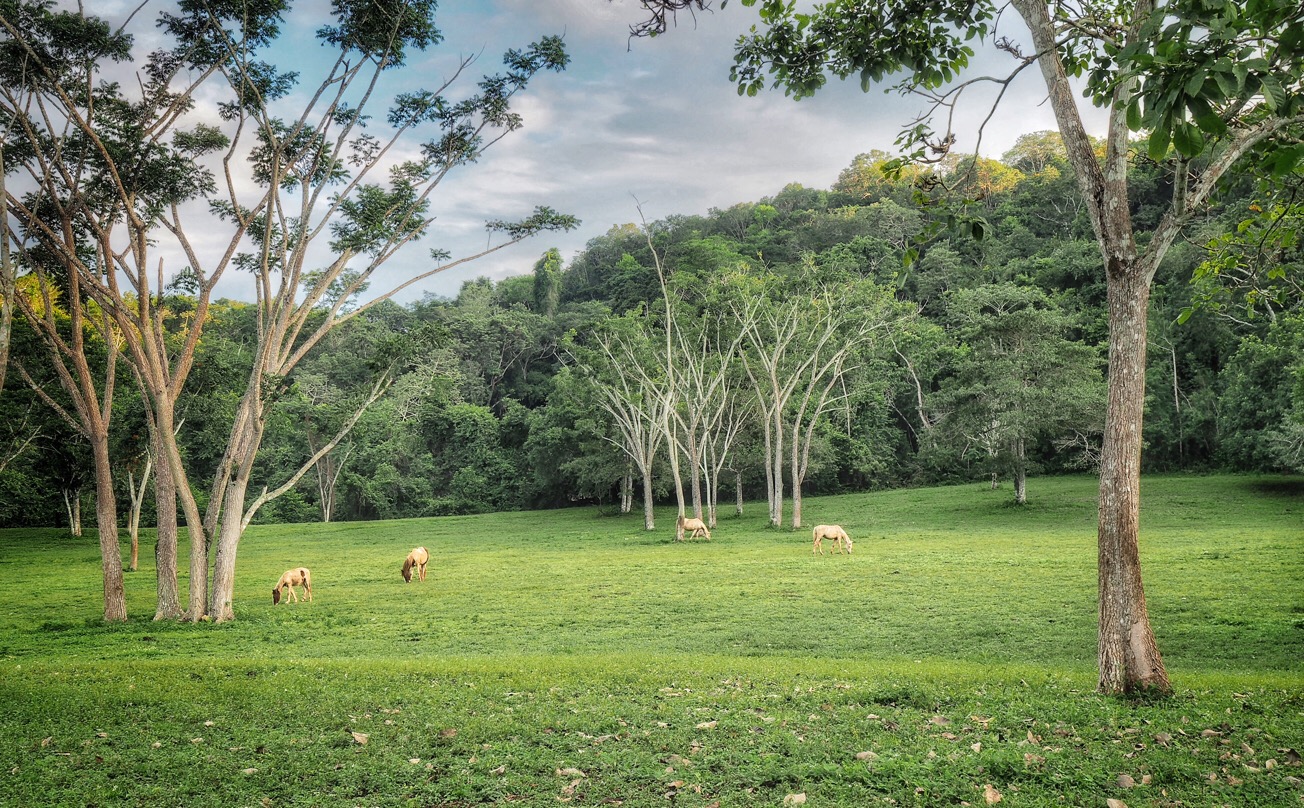 We prefer driving from country to country over flying. You get in a plane in one country. Crawl out in another and… boom… everything's different. But when you drive… it's like the country slowly opens to you.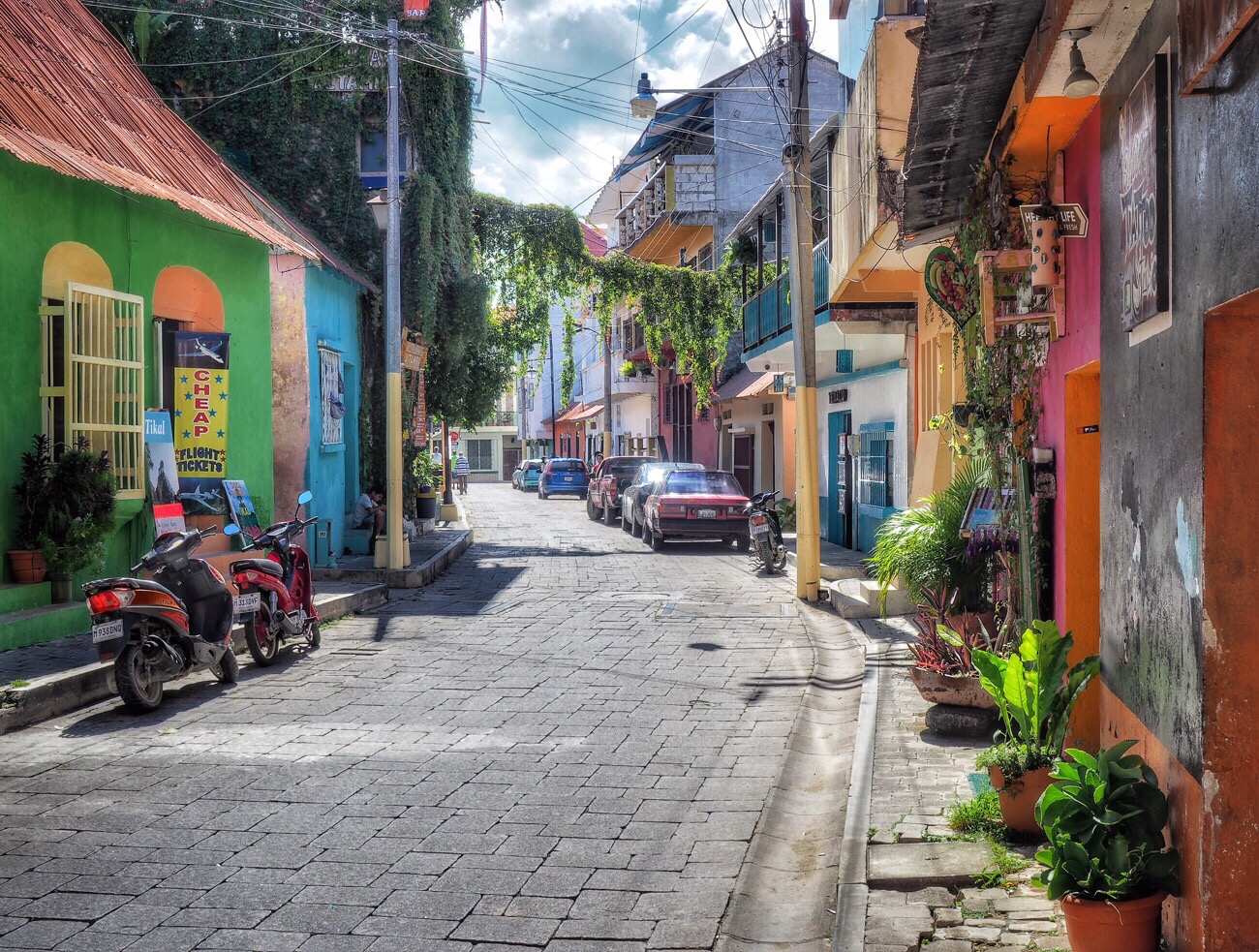 You see them at the fringes first. Foothills give way to mountains. An unexpected splash of color in the wardrobe becomes kaleidoscopic clothing. The tortillas get progressively thicker. The Spanish changes and even in some places disappears altogether. There's more than twenty languages spoken in Guatemala.
CHILDREN OF THE CORN… OR PRODUCE AISLE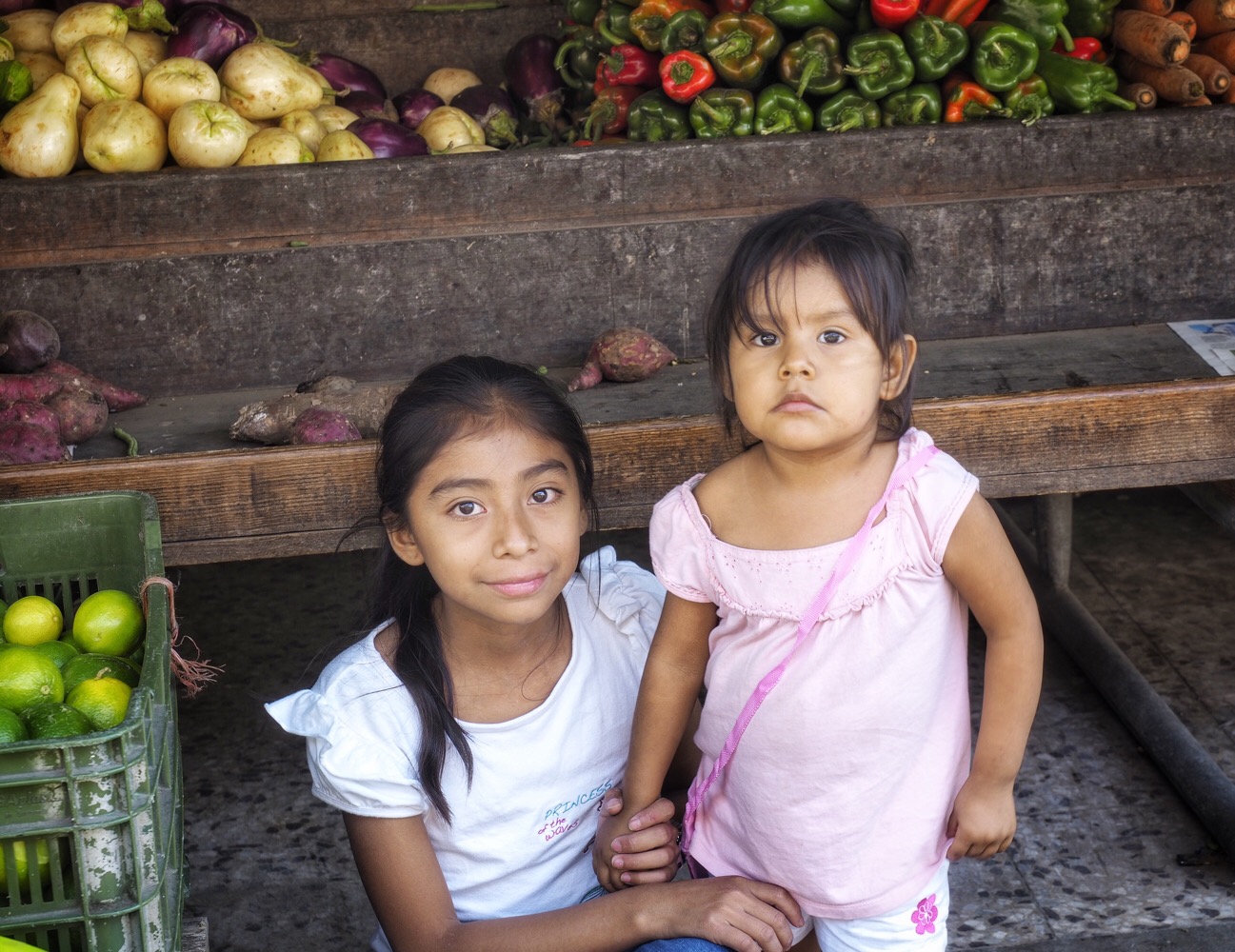 Tikal is the real deal. The full Indiana Jones experience.
THE ROAD TO EL DORADO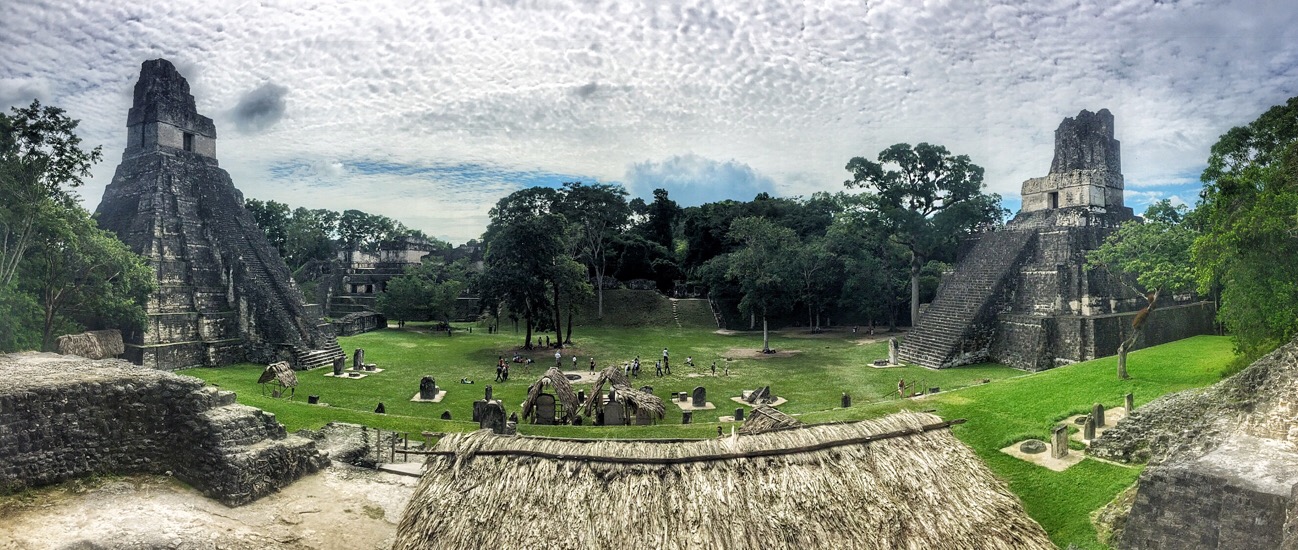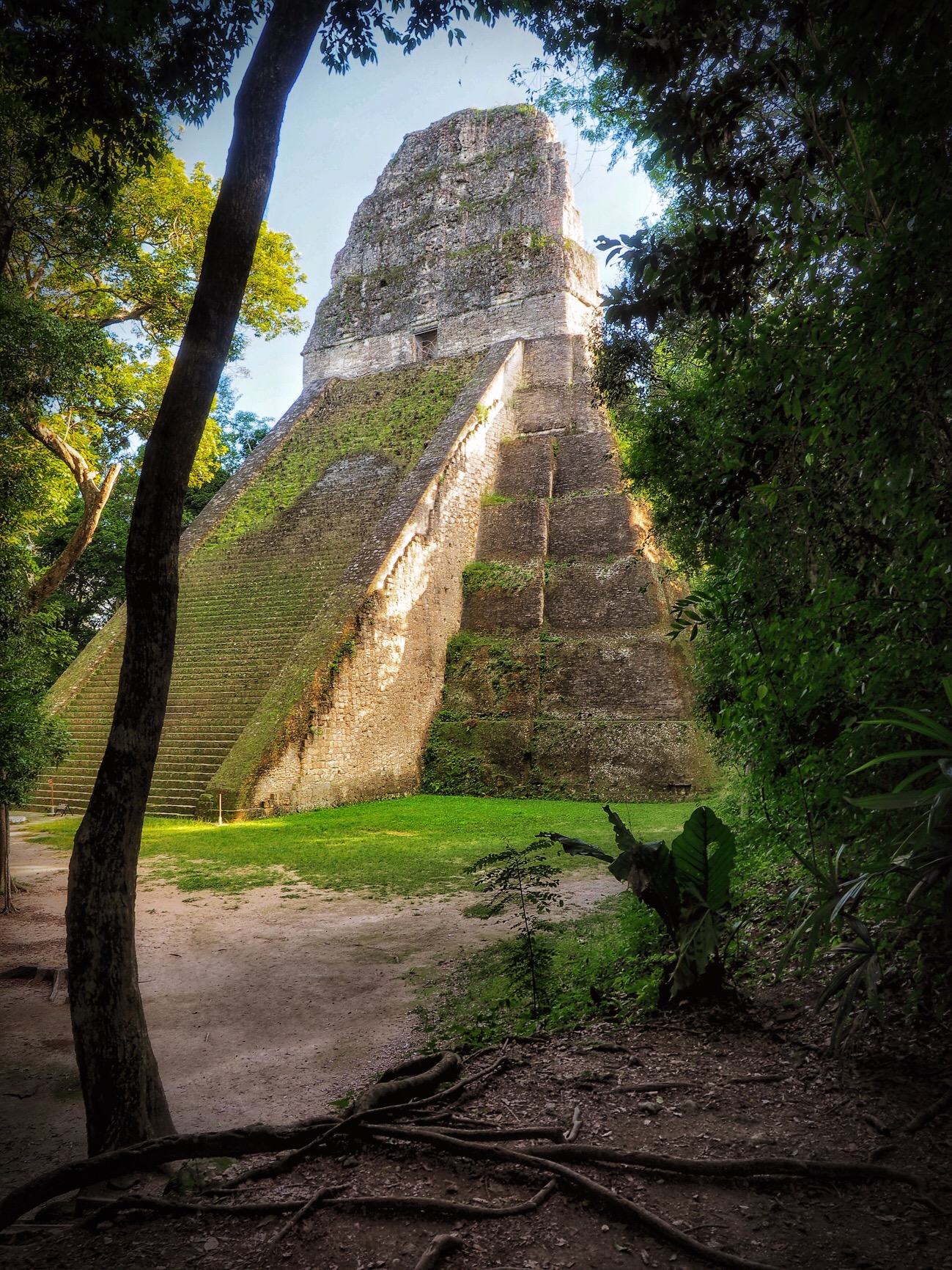 THE CLICHE'D TIKAL SHOT. I'M SURE YOU'VE SEEN THIS ANGLE LIKE A BILLION TIMES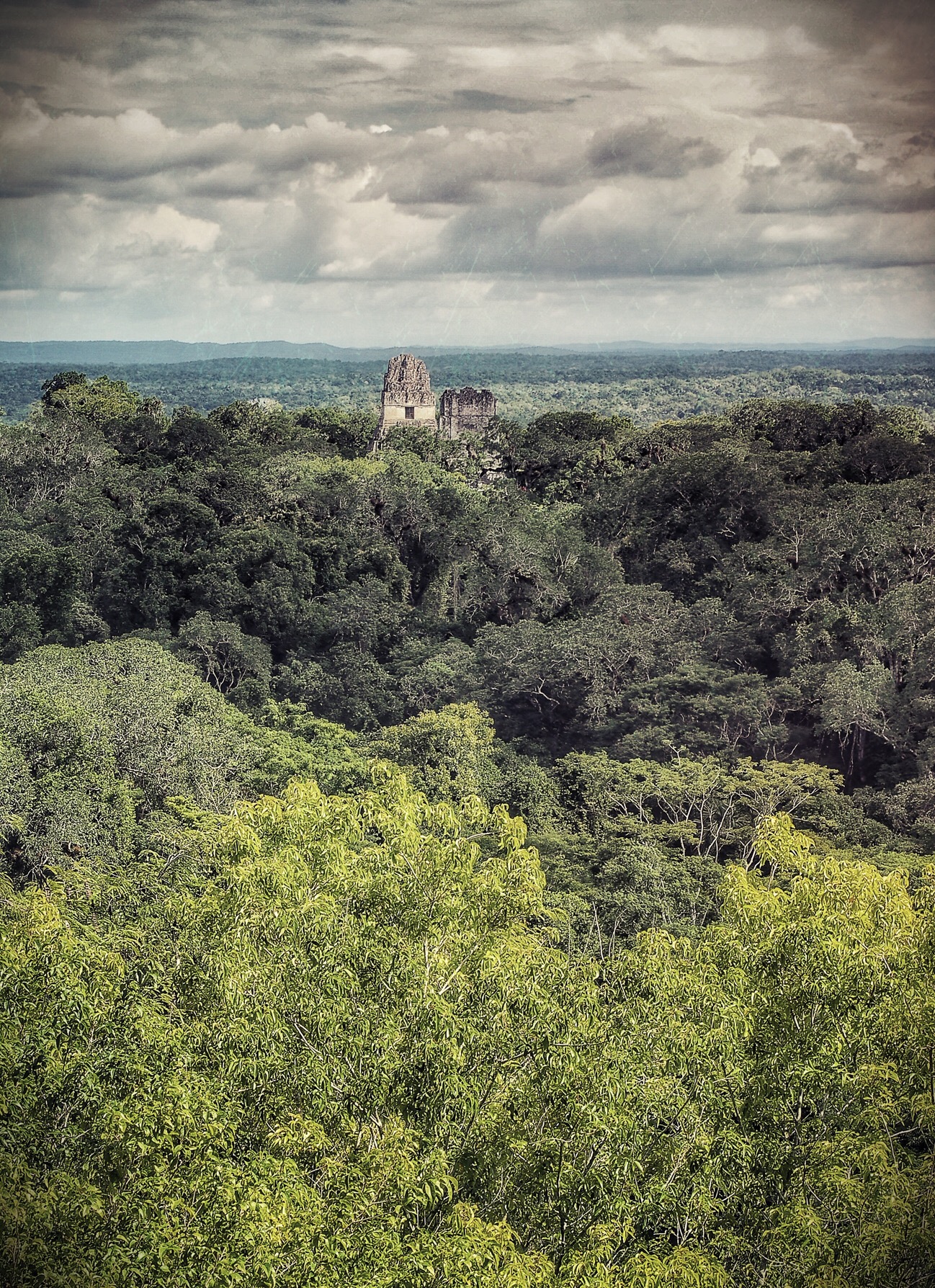 It blows Palenque away in my opinion. It was the most fun I've ever had visiting ruins… and I've seen lots of em.
KEEP YOUR MOUTH CLOSED WHEN YOU'RE WATCHING THE MONOS… THEY'VE GOT LEGENDARY AIM!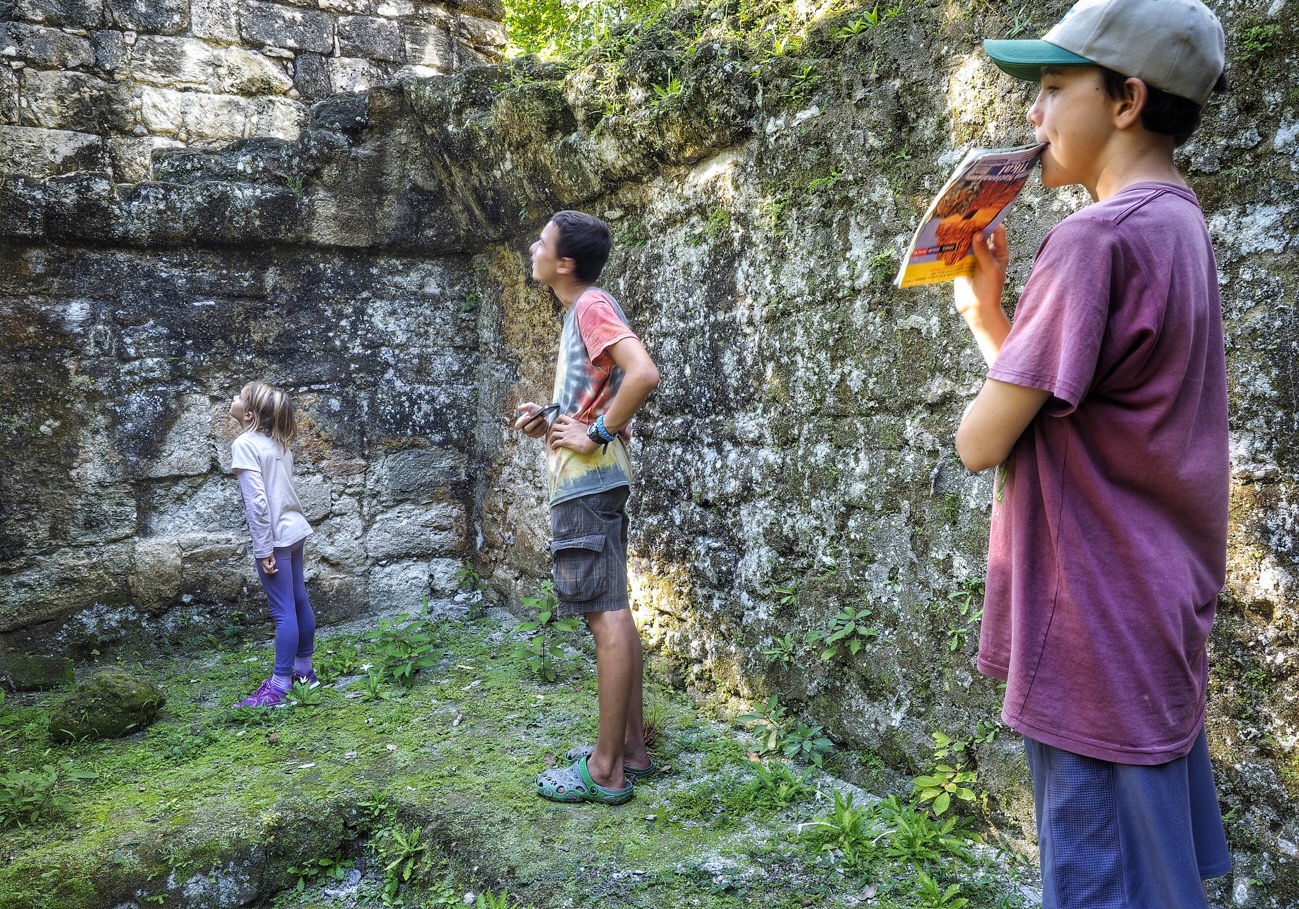 We spent the entire day exploring and playing on, in, and around the ruins.
MUMMIES CHASE THOSE MEDDLING KIDS BACK TO THE MYSTERY MACHINE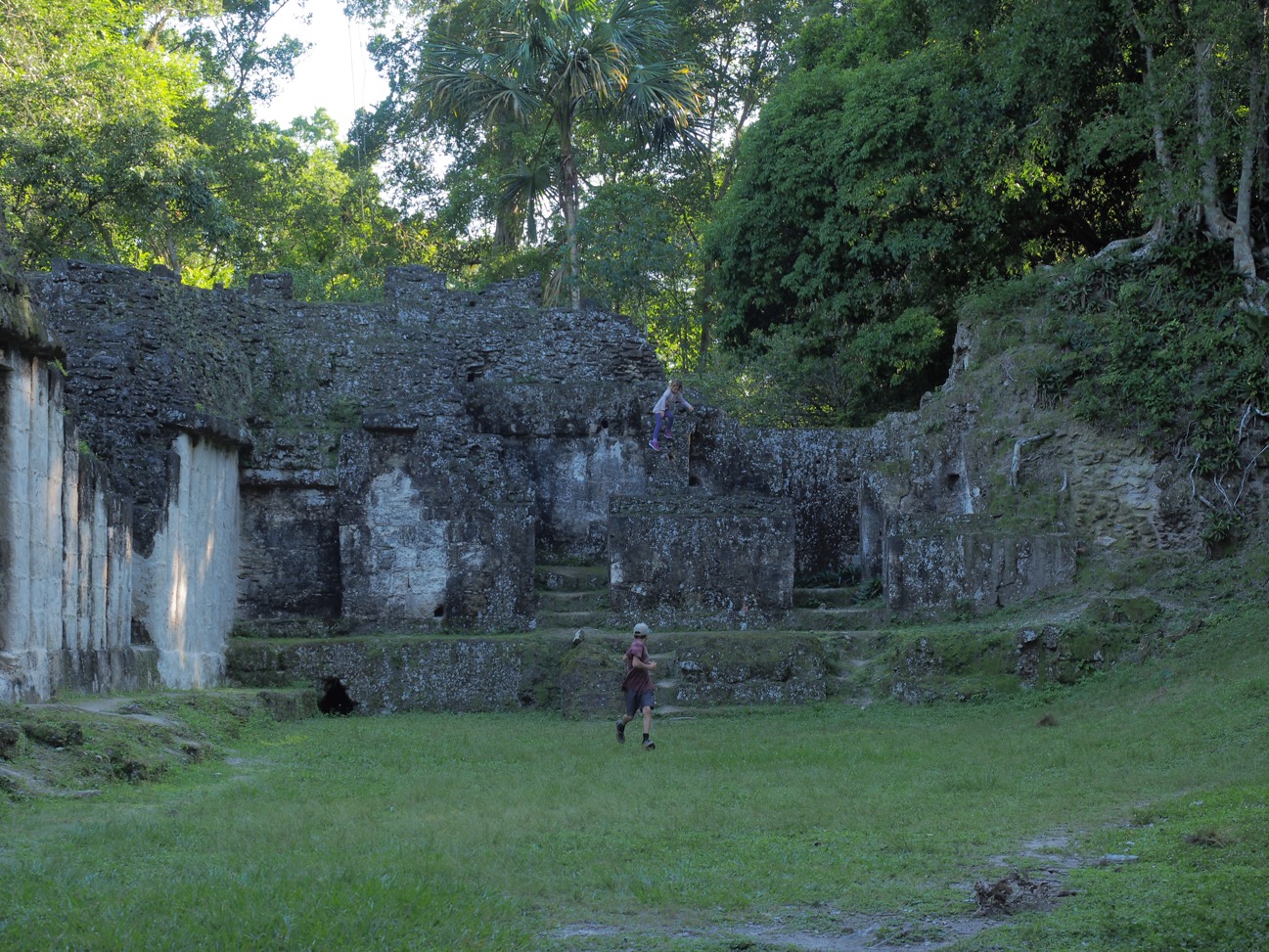 A great… and I mean great place to camp nearby (roughly 50 clicks from Tikal) is the Ixpan Pajul Natural Park. 40Q per person with power, and they only charge for one kid.
A VISIT FROM THE RELATIVES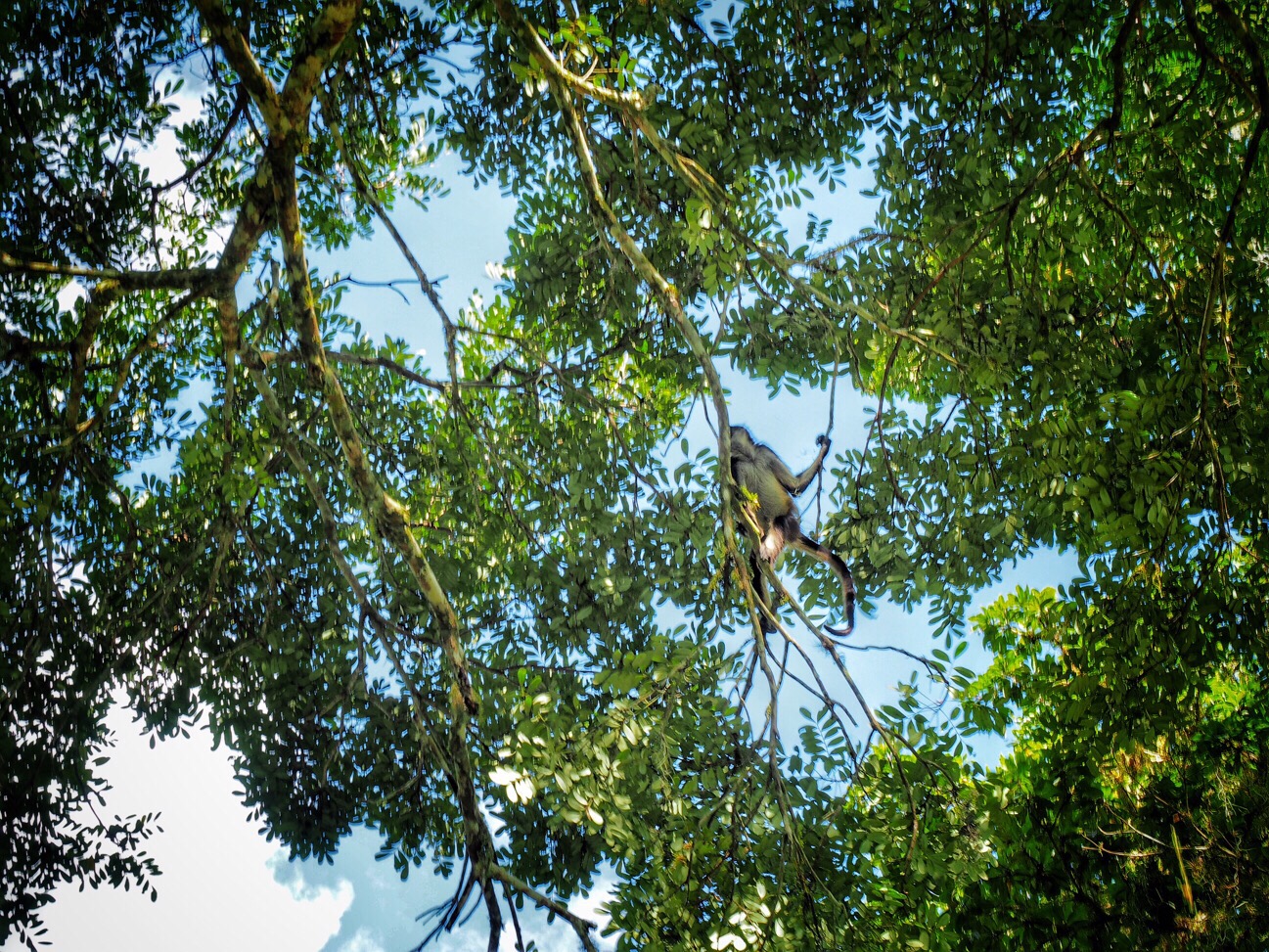 You're in a BIG wild property in the jungle with howler and spider monkeys, and coati's, and some other creature that we haven't figured out yet… but we're thinking it's a giant guinea pig.
THESE GUYS CAME UP TO SAY GOOD MORNING TO KAILA… EVERY DAY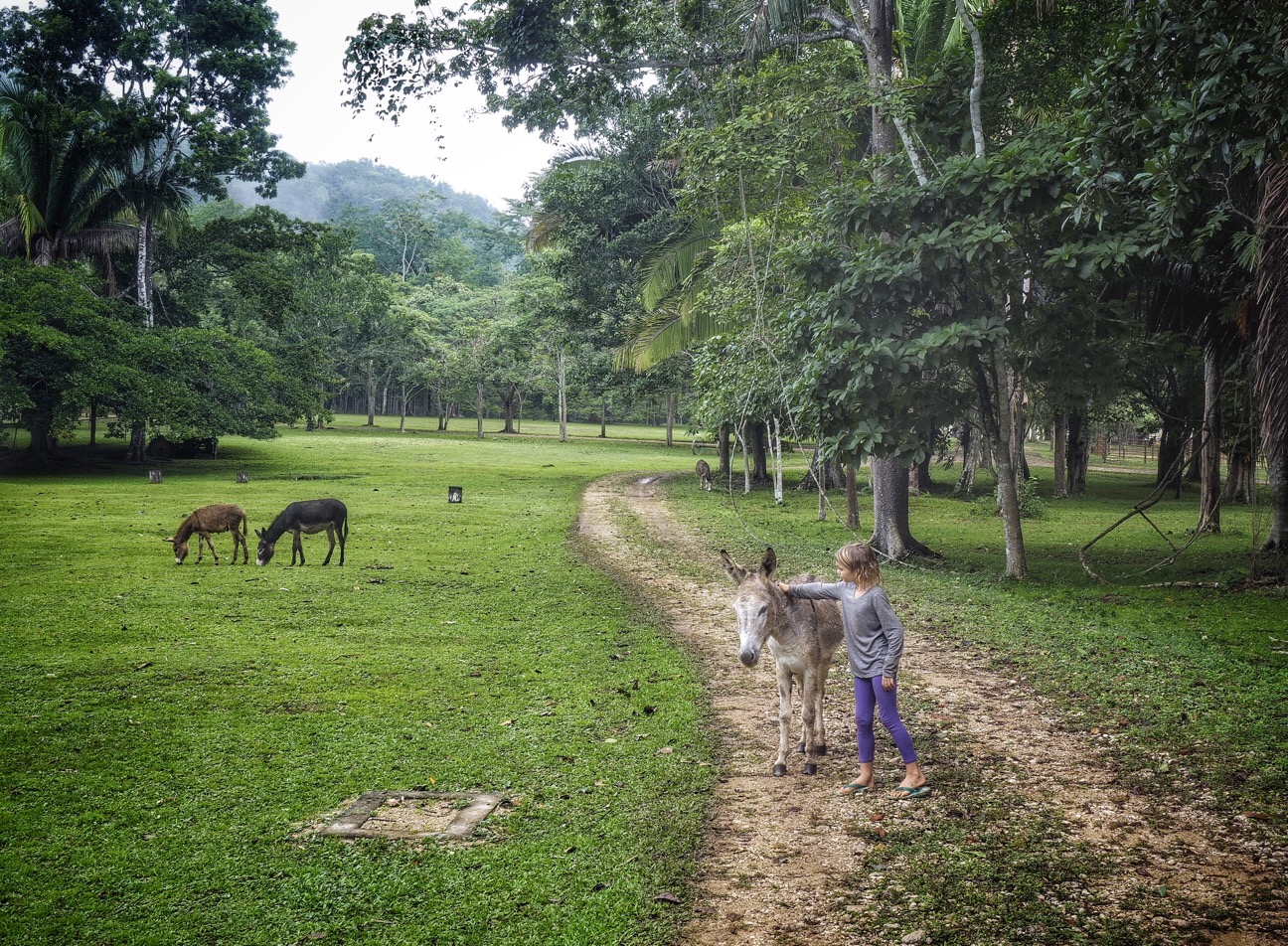 There's trails to hike…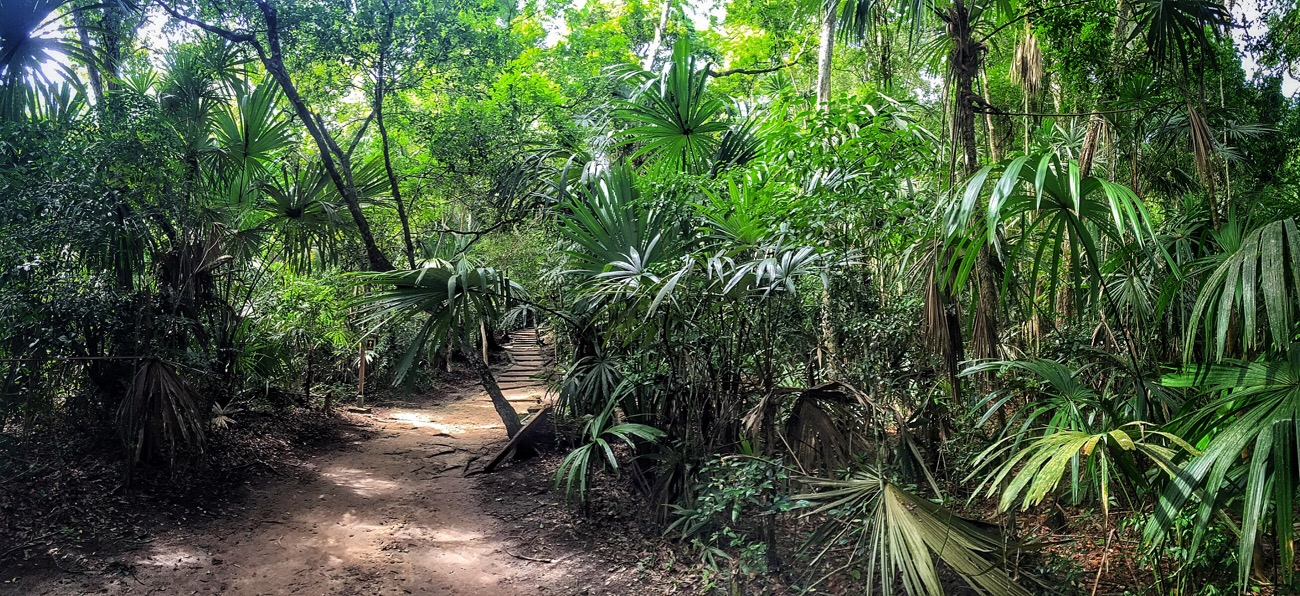 and suspension bridges good for scaring the shit out of each other.
It was the closest we've been to full on wild camping in some months. Outstanding!
The main highway is pretty good… so far. You've still gotta keep an eye peeled for those god damned topes! The bottoms of many fine vehicles have been sacrificed on their alter. You'll rarely break 40mph… speed doesn't kill here… chicken buses do (the guys who drive these things are seriously nuts). It takes us well more than two hours to cover 100 miles.
Interestingly, distances are measured in kilometers and liquids measured in gallons… split personality? Gas is about $3.60 US per gallon. And diesel is $2.90.
The people are kind and helpful and very generous. Just like everywhere else we've been. But a new experience for us… we met two women whose husbands were abducted and killed during the civil war of the late 1980's. Real life terrifying stories!

If you go to the island of Flores… and we think you should, it's good for a day… maybe two of wandering and swimming. Cool Beanz is the place to visit if you're jonesing for a decent beer (guilty), and good wifi. 12 oz of a good American IPA will cost you 20Q ($2.60 US) not cheap… but the cheapest we've seen in months. And a good meal of chicken, rice, beans, and a salad runs $45-50Q ($6-8 US)
THE WARM GLOW OF WIFI AT COOL BEANZ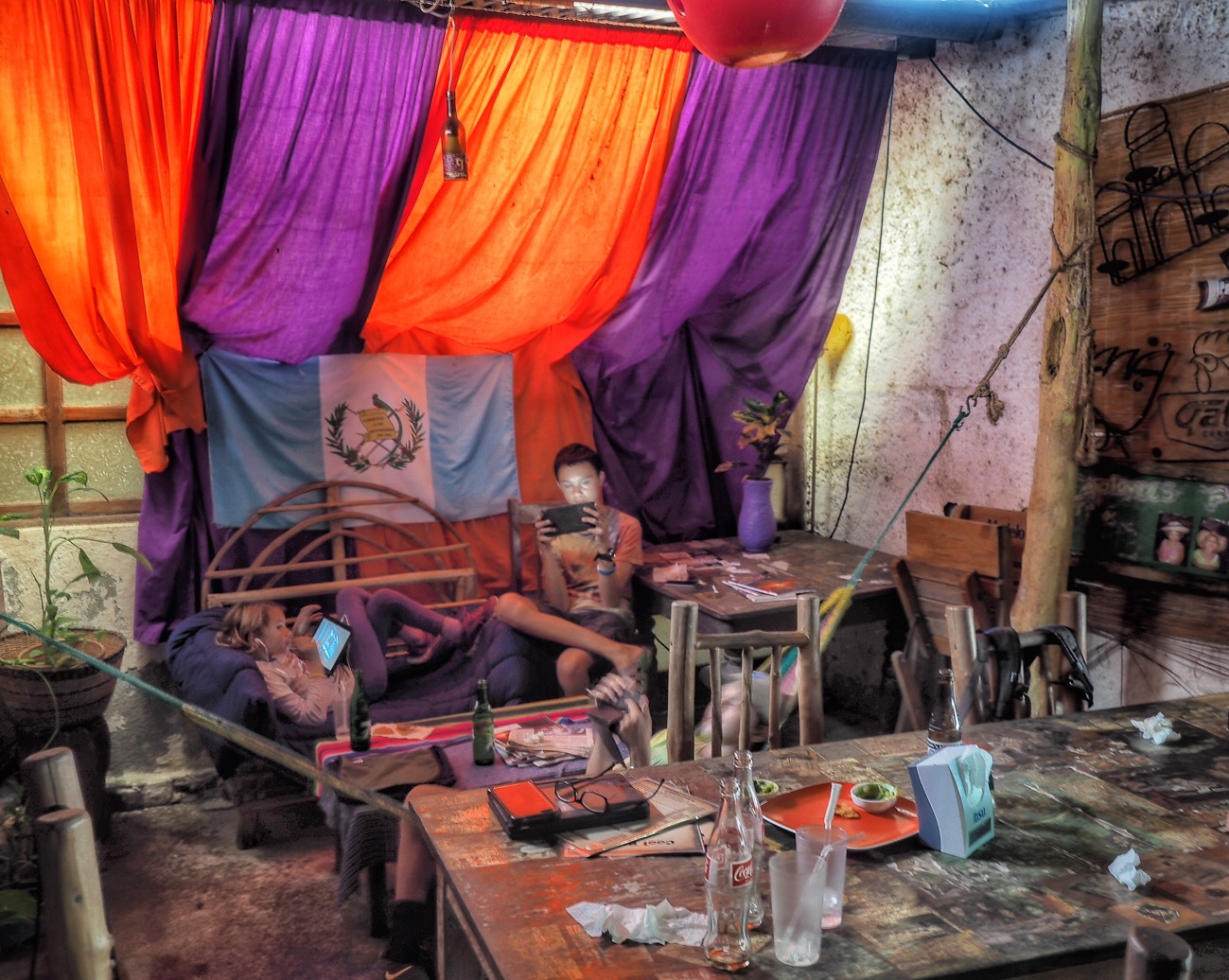 And while your here… take a Tuk Tuk ride!
Tuk Tuk!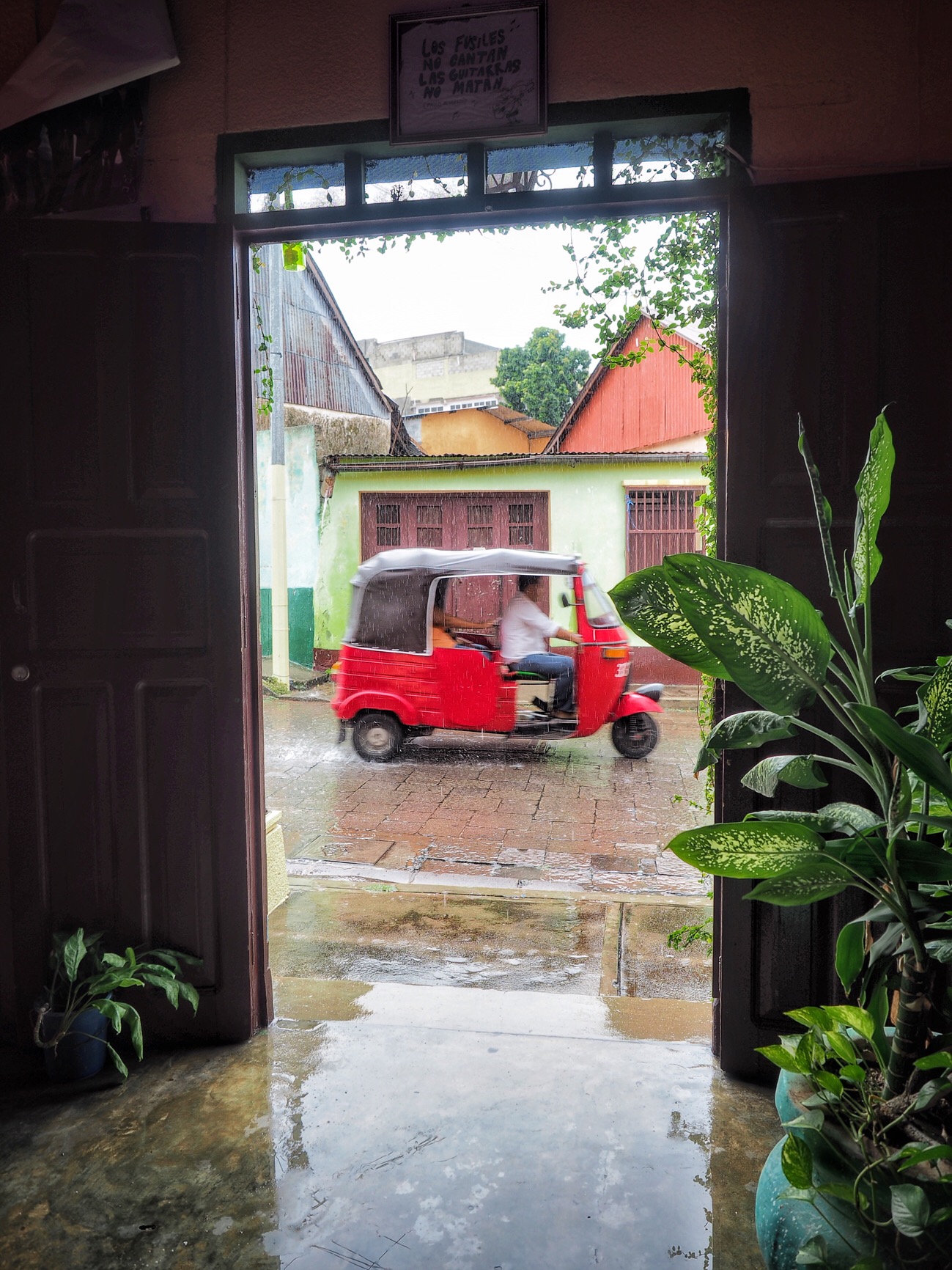 Wal Mart operates in Guatemala… of course, under the name Dispensa. And as usual you'll find pretty much everything your accustomed to but without the plethora of brands and choices that your used to. Batteries… two brands. Tampons… one. Beer… four.
THE FAMILY CAR – WE'VE SEEN FIVE ON ONE BEFORE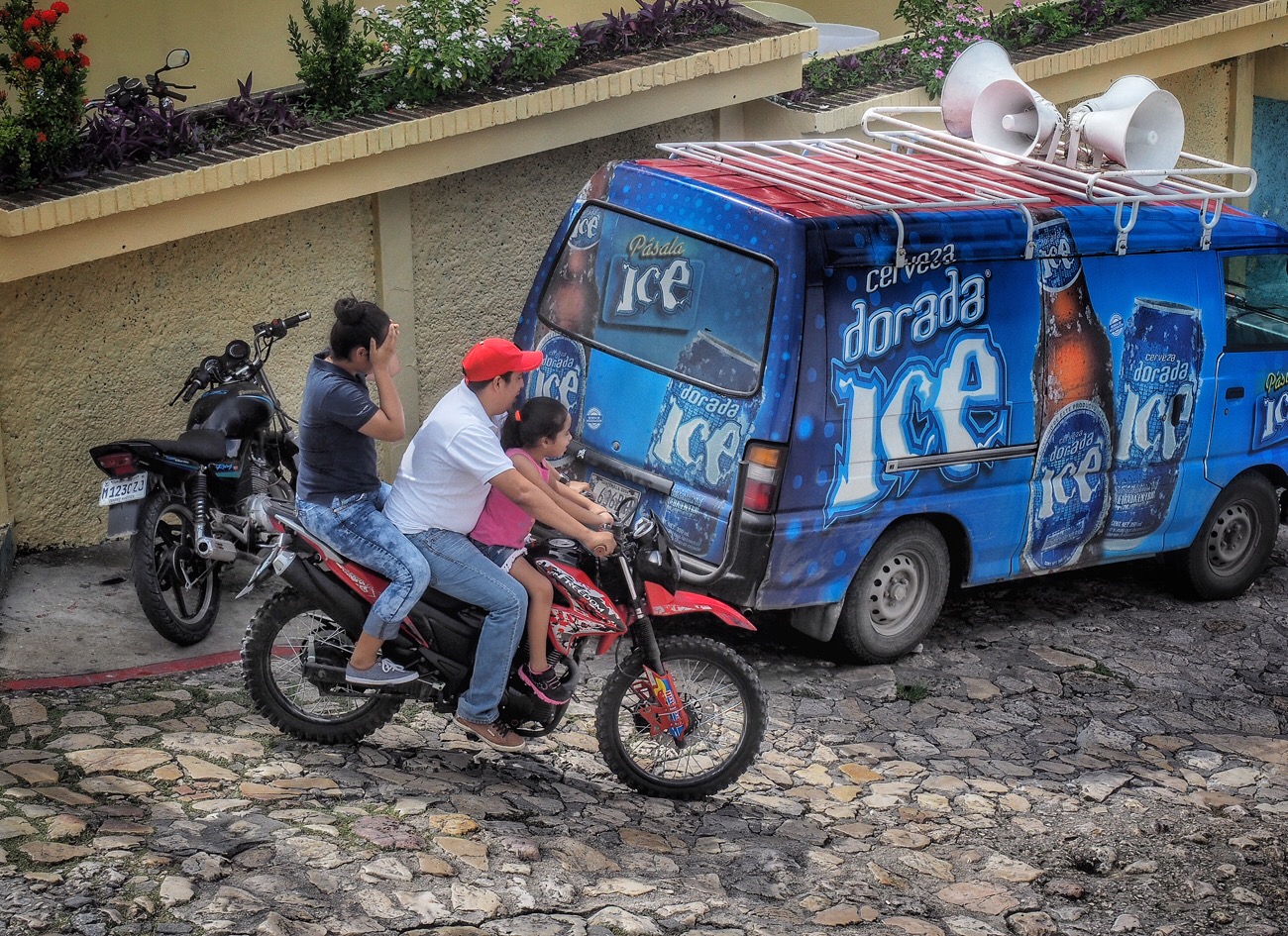 Eggs cost 1Q each. Ground beef is about 12Q per pound. Chicken breast averages 20Q per pound. Milk is 15Q per half gallon (it's in boxes on the shelf… not usually refrigerated). And veggies like delicious red peppers and tomatoes and onions and lettuce are cheap (7-10Q lb) and plentiful. You can easily cook a healthy, tasty family meal for $140Q ($20 US) including a 1L box of wine… yeeeahhhh bayyybyyyy!